Larry Piser
Designer & Proprietor
Without training in either design woodworking, it was the natural shapes and beautiful grain that first attracted me.
And now, from those humble beginnings, designing and building special pieces for special places to solve specific problems, I've been a working artisan for over twenty years.
Although, through a very organic process, I have created many distinctive pieces of "Piser Designs" furniture, it is my long list of custom clients to whom I owe the most.
These are just a few favorites, to see my latest work, please follow me on Instagram!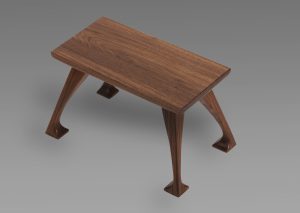 As a client waves their arms about, doing their best to describe a piece they'd like to commission, their visible excitement is infectious and begins the design/build process.
This initial arm waving meeting is just the first step. As I accept their challenge, the conversation continues and we work together to design a solution.
The furniture that emerges from this process continues to excite, surprise, and 

satisfy

 both my clientele and myself

. 

 This process also results in each piece having its own personality, seasoned with the human touch

.